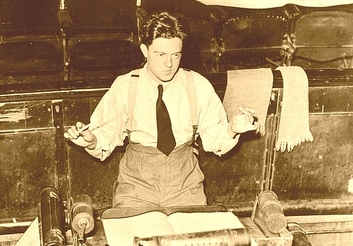 George Lloyd, 21, conducting at The Lyceum Theatre
The British composer George Lloyd (1913-1998) resisted trends in 20th Century music by continuing to write lyrical, romantic tunes. His works include three operas, twelve symphonies, three large scale choral works, seven concertos, piano and violin music, and virtuoso pieces for brass band.
Born in Cornwall, Lloyd was a musical prodigy, his opera Iernin being performed in London when he was 21. His career was interrupted by the World War II, which left him with severe physical and mental injures, from which he slowly recovered. In later years, he achieved popular and commercial success as a composer, conductor and recording artist. Read more here...