Hello ,


We apologise for the long delay since our last newsletter, and particularly to new subscribers who may not have received the usual 'welcome' newsletter. The delay has been due in part to the need to update and migrate our website to a new and more modern server. We have however been busy with the George Lloyd Society, and like most of the classical music business, we woke up after the bad dream of Covid-19 in a slightly different world, complicated by some personal health problems of our own. 

We are now back on track, and with the invaluable assistance of consultants and supporters, we have a plan which we believe will allow us to move forward, by implementing some changes to help us stay viable in the new global digital marketplace.  

One of the most significant changes has been to acquire the rights to the recordings of Lloyd's music made by the Albany Symphony Orchestra, previously issued by Albany Records USA, so that all the Lloyd recordings on the Albany label can now be managed as a single catalogue. 

This is very definitely the end of an era. It was Peter Kermani and Susan Bush who, 36 years ago, founded the Albany Records label, with 3 of their first 4 releases being works by George Lloyd, and over the next 15 years they released a total of over 20 CDs of Lloyd's music. We owe them a great debt of gratitude for having the courage to defy the trends of fashion and to champion traditional forms. Their confidence in this music has been an essential element in keeping Lloyd's music available to a wide public.  

While our priority remains the promotion of live performances, we are also working on finding new global markets for music scores and music downloads, by digitisation of existing printed scores and CD recordings. We will supply new markets and existing customers by manufacturing to order, and despatching to customers directly from the pressing plant, with a programme of new releases to raise our profile on the download platforms.  


---
Grand (discounted) sale of surplus stock:


We are very pleased to announce that this process has begun with a new partnership with Wyastone, who have a proven and excellent track record in short-run manufacture and fulfilment of retail orders. We will reduce surplus stock from the acquisition of the Albany USA recordings, and as an introduction to the new system, Wyastone are offering a 30% discount on all CDs, together with some rare LP copies which might fill in a few gaps on your shelves. Please visit the Wyastone shop to order: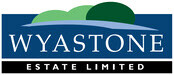 ---



The Ultimate Classical Music Guide




---
If you have not seen it, please check out this YouTube video from David Hurwitz talking about Lloyd's Symphony No. 5. Click the picture...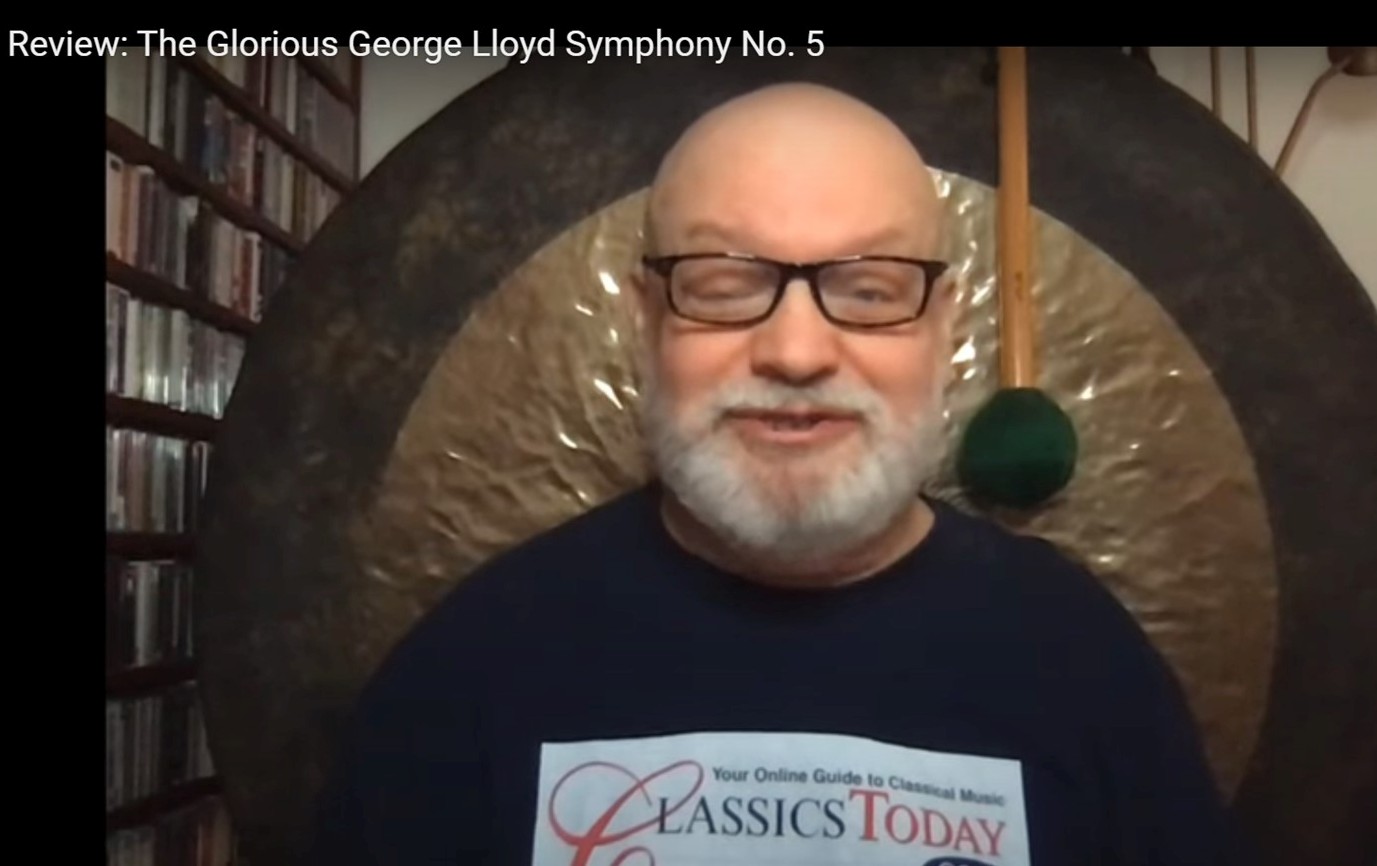 ---
What did George Lloyd do wrong?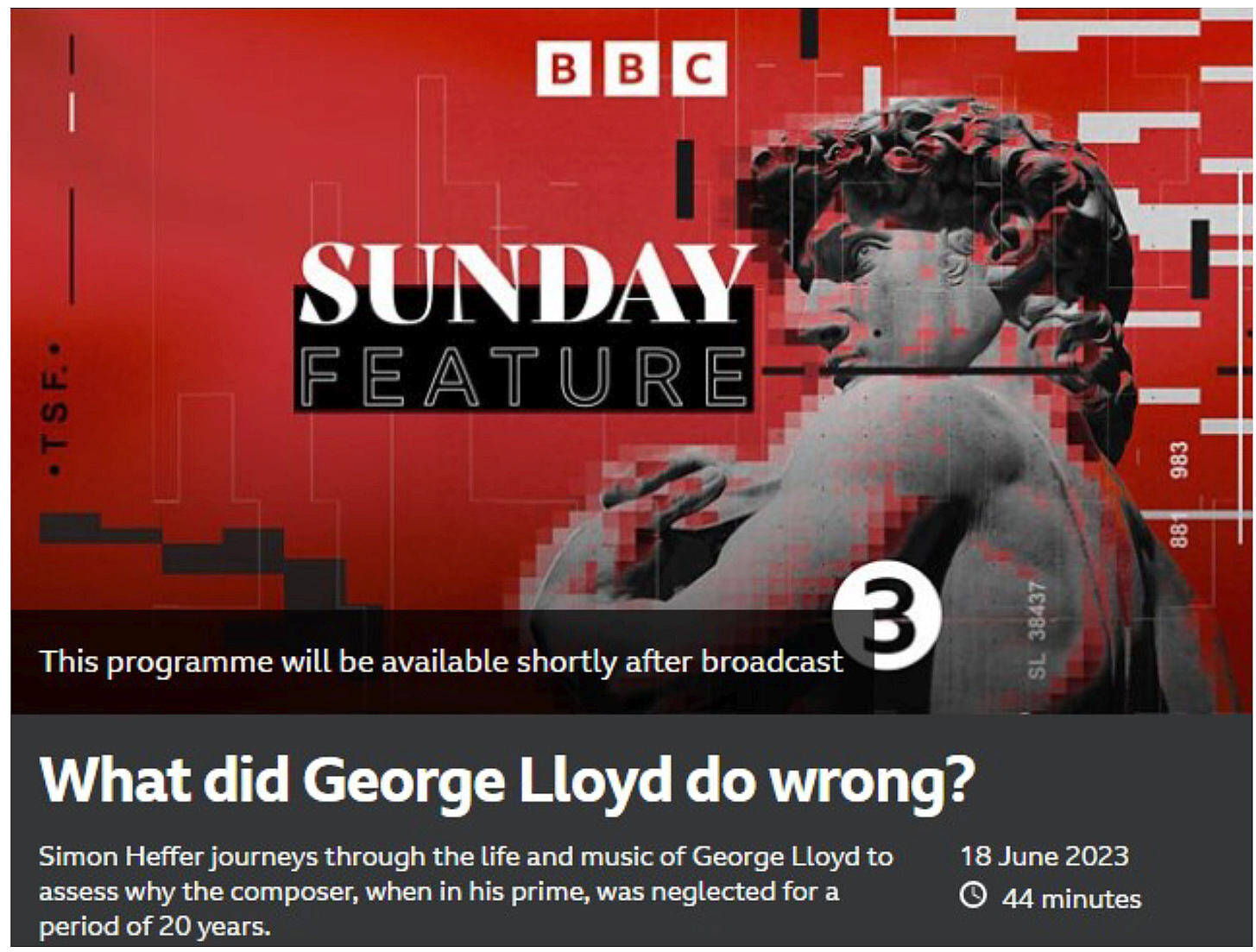 That is certainly a question we have asked ourselves frequently in the last 35 years. Lloyd's extraordinary success as a young man was mirrored by an astonishing Indian Summer of popularity, with long periods of silence between 1951 until 1978, and only occasional broadcasts and concerts since his death in 1998. The extraordinary enthusiasm of his admirers for his late Romantic style was matched only by the hostility of his detractors. So what exactly held his music back from mainstream familiarity? 
This BBC R3 Sunday Feature from June 2023 was presented by Simon Heffer, who interviews musicians and commentators from the world of orchestral and brass band music.  Please click here for BBC R3 Sunday Feature page., or click the picture. 
---
Finally, our plans for the future include several new releases of previously unrecorded works, and new editions of unpublished scores.  Watch this space, With best wishes, and thanks for your continuing support, 
William and Alison Lloyd