IERNIN - A Celtic Opera
New Production LATEST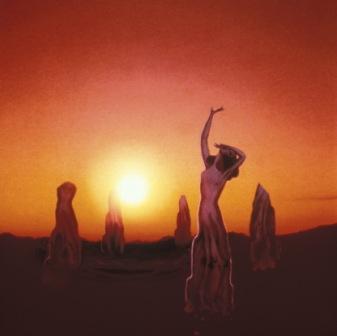 .. and gradually...
one of the stones became a woman..
Iernin,
George Lloyd's first opera, was first performed in Penzance in 1934, and a new production opened at the London Lyceum Theatre in 1935, conducted by the composer. It was an astonishing success.
The opera was recorded in 1985 by the BBC Concert Orchestra, with the composer conducting and Marilyn Hill-Smith singing the title role. However, it has not been staged since the Lyceum production of 1935.
Surrey Opera, after their acclaimed World Première of Samuel Coleridge-Taylor's Thelma, are once again leading the way in staging a new production of Iernin, directed by Alexander Hargreaves and conducted by Surrey Opera's Artistic Director Jonathan Butcher.
This opera is an extraordinarily mature work written by a young man who was still in his teens. The libretto was written by his father, who also wrote the text for two further operas by George Lloyd. 'The Serf' was staged at Covent Garden in 1938 and 'John Socman' was commissioned for the Festival of Britain in 1951 and toured with the Carl Rosa Company.
You may detect the influence of Verdi or Wagner, you may spot, what sounds like, a snatch of Puccini or Elgar, but more than anything – you will hear pure Lloyd!
…as for the music itself, it is entirely fresh and original in inspiration, and shows clearly not only great power but an intense sense of beauty, and a deep emotional and imaginative sense.
John Ireland
...Iernin rings like a well-cast bell, and I confidently look forward to the time when there will be a whole peal of such works from your pens.
Rutland Boughton
...George Lloyd showed that rarest of all qualities in a British's composer, an almost unerring perception of what the stage requires… an extraordinary achievement…
The Times
...One of the most successful operas by a British composer…
The Musical Times
History
---
Iernin has an interesting history. It originates from a late night conversation between the composer's father, William, and his friend Walter Barnes, on their return from a visit to Convent Garden. Opera in England and English opera in general were both found wanting. Walter Barnes, Penzance's indefatigable amateur impresario, proposed a school of Cornish opera. "You write it. I'll put it on! ". Four days later the father came up with a libretto and George began to compose the score, wandering the moors of Zennor seeking, and finding, inspiration from the stones circles and legends of the area. Within a year the opera was complete. The friend was as good as his word, and by the happiest of chances Frank Howes, the music critic of The Times was taking his holidays in Cornwall. He attended the premiere and loved it. The London season followed in 1935, playing to enthusiastic houses and defeated only by the heatwave which emptied the theatres that summer.
Surrey Opera
---
Surrey Opera was founded by the late Joyce Hooper MBE in 1969. In June 1970, she embarked upon the most ambitious project of her career, staging the Mozart operas, starting with the Magic Flute in Redhill's Market Hall. Surrey Opera was born.
In 1976 Joyce heard of a brilliant young musician who was conducting The Marriage of Figaro in a barn at Blindley Heath in Surrey. She handed over the baton to Jonathan Butcher, the present Artistic Director, who has continued so remarkably what Joyce Hooper started.
Performances
Surrey Opera will give 3 performances of George Lloyd's Iernin, with professional soloists, full orchestra and chorus, in Croydon, Surrey, during the week ending 26th October 2013 and a further 2 performances in Penzance on Friday 1 November and Saturday 2 November.
24th - 26 October - Trinity School, Shirley Park, Croydon - Details can be found at link below
http://www.concert-diary.com/concert/508985361/George-Lloyd-Iernin-A-Celtic-Opera-Surrey-Opera
1st - 2nd November - St John's Hall, Alverton Street, Penzance - Details to be finalised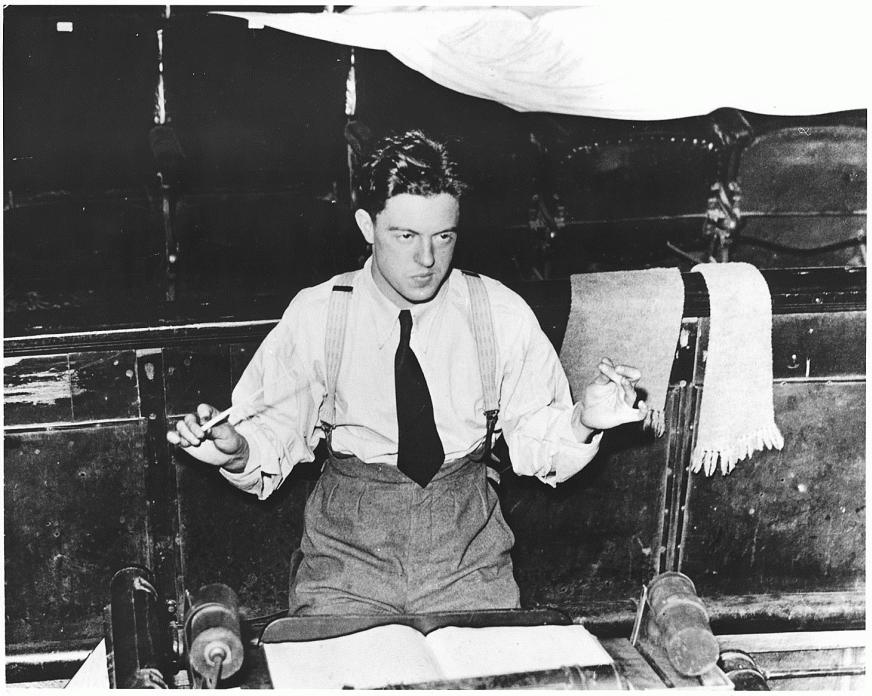 George Lloyd, aged 21, conducting at The Lyceum Theatre

Links
Surrey Opera website: http://www.surreyopera.org/
Interview with Chris De Souza about Iernin:
http://www.georgelloyd.com/index.php/biography/gl-soc-interviews
Link to full reviews of Iernin + CD recording.
http://www.georgelloyd.com/index.php/2012-10-29-20-23-41/recording-catalogue/items/view/troy121-122-123
CD Available from www.georgelloyd.com (Triple CD £20 including postage)
George Lloyd Centenary Year 2013
2013 is the centenary year of George Lloyd who was born on 28th June 1913.
In addition to the revival of Iernin, there are over 30 concerts of his music throughout the year including the BBC Proms on 3rd and 7th September. St Ives Town Council have arranged a Birthday Concert on 28th June, and the St Ives Festival in september will feature further works toi be announced.
For full details go: http://www.georgelloyd.com/index.php/centenary-concerts-calendar
Surrey Opera - Sponsorship
Surrey Opera are now actively seeking sponsorship and donations for this exciting Centenary celebration of George Lloyd's music and inspiring life. Can you help, please? As always with financing this sort of enterprise – every little does really help.
For more information please contact Surrey Opera's Administrator This email address is being protected from spambots. You need JavaScript enabled to view it.
Alternatively you could just send a donation in the form of a cheque to Surrey Opera's Financial Director, Tim Baldwin, 211 Frenches Road, Redhill, Surrey, RH1 2JE - made out to Surrey Opera.
Thank you once again for your interest in the George Lloyd Society.
William Lloyd

PS Please support the Centenary concerts if you can:

Next event:
5th Symphony
Philharmonia Britannica conducted by Peter Fender
Date and Venue:
Saturday 8 June
St John's, Smith Square, London, SW1P 3HA
Latest Calendar here:

http://www.georgelloyd.com/index.php/centenary-concerts-calendar
---